Seasonal ingredients for fresh wedding menu
Use what season gives. It helps to avoid the lack of ingredients and creates healthy meals easy to consume in this time of year.
Light food as wedding menu alternative
Rather then fill guests to top with the 1st served meal, make your choice lighter, more fresh and still well looking.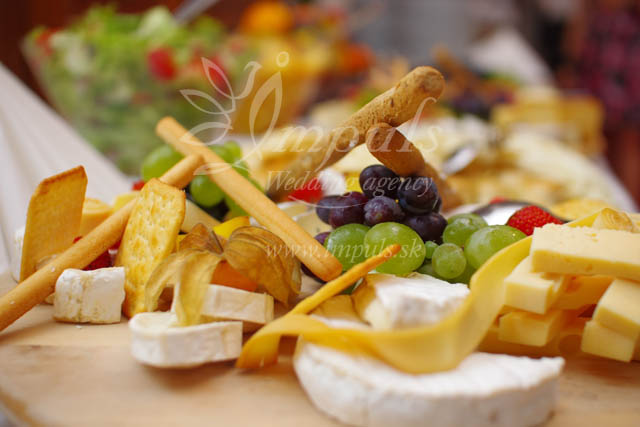 Less is more also by wedding meals

Smaller portions enable to taste more options and help to survive wedding eating boom with no stomach troubles.
Simple meals for wedding buffet
You don´t need to stuck with basics, just those more untraditional bits place to buffet rather than for served menu. Who wants to try the difference, will.
Suitable combinations on wedding menu plate

The easier the combination, the more delicious for youngs and elders. Experiments again for the buffet please.
More variations of your wedding menu
If you plan to serve more options of the main menu, take into consideration everything it brings (more portions, more inventor, more personnel, so more money).
Think of children – with menu too
Heavy meals are not suitable for small children. Think of it when choosing delicatessen for your wedding and don´t let small people starve.
Vegetarians and diets on wedding
Inform about necessary health diets in advance and offer suitable meals for everybody.
Religious traditions accepted by menu creation
Respect differences and take care of traditions and limits especially if they are strictly observed.
Don´t omit your organisational team from menu
Don´t forget even the people taking care of whole your wedding party. Live band, photographer, videographer, moderator…especially when performing whole day or night, it is polite to treat them as well.
Wedding buffet style choice
That´s the place where you can show off with national, international, untraditional and any other specialities. Show your guests the differences, tops, delicatessen and serving manners or whatever you like.
Good appetite!
Pictures sources: ImpulsWeddings